On the 9th of June, Brave Combat Federation makes its European debut when it arrives to the SSE Arena, Belfast, Northern Ireland. This is a landmark occasion for the fast-growing promotion as it branches out for the first time into the continent.
Fitting for such a historic occasion, the card is packed with exciting fights as well as fan favorite names. In the main event we see bantamweight champion Stephen Loman (9-2) defend his belt in a rematch against highly touted SBG man Frans Mlambo (5-2), who looks to avenge his loss against Loman, this time hoping to walk away with a championship. In the Co-Main event we see Northern Ireland's own and former UFC contender Norman Parke (24-6-1) take on Irish man Myles Price (10-6) in a very exciting lightweight match up.
Also on the card, we see two extremely entertaining fighters come head to head when Liverpudlian Bryan Creighton (8-6) takes on Belfast's own Andy Young (11-10). While Creighton is coming off a 3 fight finish streak, Young is coming off a loss. However, it was to former top 5 UFC flyweight Ali Bagautinov who has beaten top fighters such as Tim Elliott, John Lineker and has fought current UFC flyweight champion Demetrius Johnson. With 11 Finishes between both fighters, this fight will surely live up to expectation and deliver a barn burner.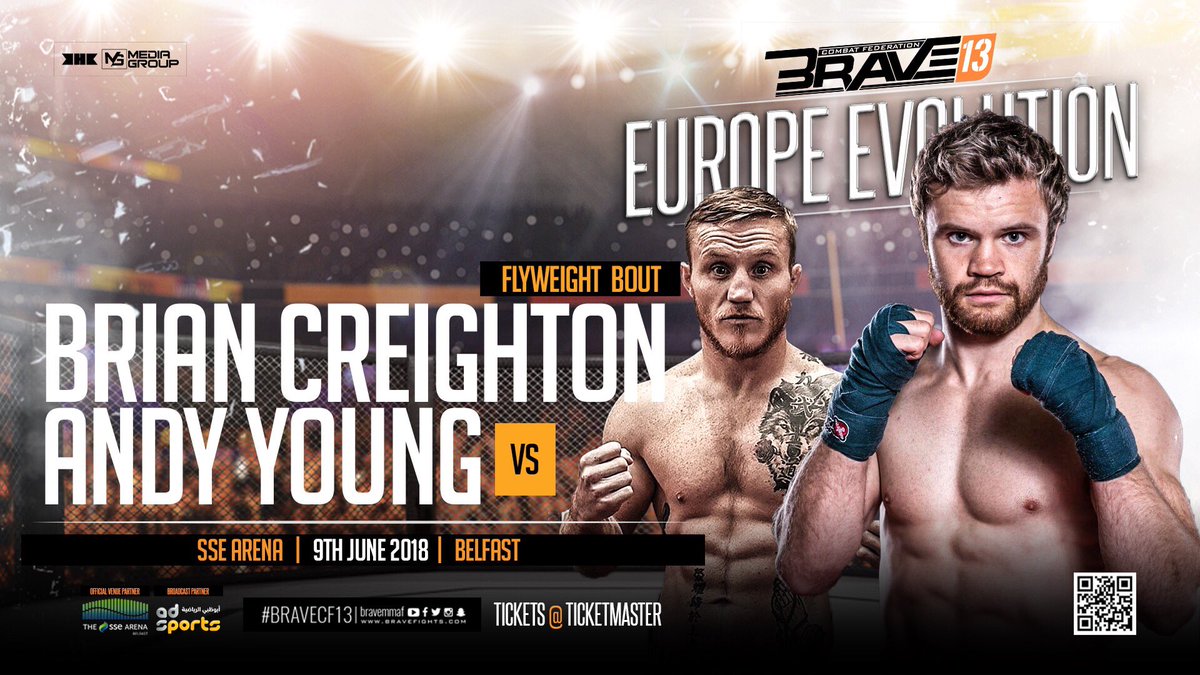 "The mental area is the most important out of anything, I will beat him there and take whatever I see to get the finish in this fight."
After fighting one of the very best flyweights in Ali Bagautinov in Russia, Andy will be looking to get back to winning ways with a victory over rising British prospect Creighton. Andy is a dangerous fighter, both on the feet and on the ground, which we seen in an impressive victory over Dominic Wooding, a very hot young prospect, with a record of    3-0 (3 TKO) at BAMMA 28. Andy is currently 5-3 in his last 8 bouts, with 3 finishes. These wins include impressive performances over fighters such as Alexander Barabash and Aaron Aby. I caught up with Andy Young to get his thoughts on his upcoming opponent and how he feels to be fighting on such a huge card in his home town of Belfast.
Eamonn Scott: Andy, this is your first fight under the Brave banner. When exactly did you get the call about fighting for them and was there anything in particular that interested you the most about fighting for brave?
Andy Young: "I was contacted back in March about their plans to run a show in Belfast and to have me on it, I was thrilled to hear that BRAVE was coming to my home town, I heard a lot of great things about the promotion and how it's run."
ES: You make your return to your hometown in Belfast, which you have an excellent record in. What is it that's so special about Belfast which also always seems to bring the very best out of you.
AY: "The energy of the people here is unrivaled! Belfast knows how to make some noise!  I get so much support and feel a real uplift getting to represent and get the win for them."
ES: Northern Ireland has a thriving MMA scene at the minute. With fighters such as James Gallagher, Rhys McKee and Norman Parke, do you believe that this will only improve and how do you see the MMA scene in Northern Ireland at the minute?
AY: "It is scary to see how good the local scene is getting. The sport is becoming more and more popular and gaining great traction. There is a plethora of  talent, ability and skills in the new breed of upcoming mixed martial artists here, and for sure will only improve."
ES:  You're fighting against a very tough opponent in Bryan Creighton who himself is coming off an impressive 3 fight win streak. When this fight was proposed to you, what were your first thoughts on fighting Bryan?
AY: "I was excited to get an opponent who i know brings a great fight, he's very game. well-rounded and likes to trade, so i know this will be fun!"
ES: You've fought top quality fighters in your career such as the former top 5 UFC contender in Ali Bagautinov. Do you thrive off facing the biggest names you can get?
AY: "There are a number of reasons to be in this sport, and one of the main factors is to compete against and be best in the world. I love and jump on the opportunities to do this."
ES: Bryan has multiple wins by TKO, Sub and Decision, showing that he has skills in all departments. However, is there a particular area that you believe you can exploit and get the best over him in?
AY: "The mental area is the most important out of anything, I will beat him there and take whatever I see to get the finish in this fight."
ES: How has this training camp gone for you? Is there anything specific that you have focused on in this camp and do you think you have improved it as much as you aimed to?
AY: "It has went great, I have made a few changes and stepped things up. It's all about getting the right formula, I've enjoyed working all areas and getting a bit creative with things, it will all be on show 9th June."
ES: You've been in this game for a while now, do you believe that you still have a lot to accomplish?
AY: "Yes, I want to be the very best version of myself in there and fully realise my potential. In addition, that UFC title will be in my hands by the end of my career."
ES: Finally, if there's one message you have for Bryan, what would it be?
AY: "Let's put on a show and bring your best."
This fight is surely going to live up to every expectation. With Andy young being the home town fighter, he is certainly going to receive an incredible atmosphere. Bryan Creighton will also be defending the best win streak of career, both fighters have a lot to defend in this epic Flyweight battle. SEE YOU THERE!