On the 9th of June, Brave Combat Federation makes its European debut when it arrives to the SSE Arena, Belfast, Northern Ireland. This is a landmark occasion for the fast-growing promotion as it branches out for the first time into the continent.
Fitting for such a historic occasion, the card is packed with exciting fights as well as fan favorite names. In the main event we see bantamweight champion Stephen Loman (9-2) defend his belt in a rematch against highly touted SBG man Frans Mlambo (5-2), who looks to avenge his loss against Filipino star Loman, this time hoping to walk away with a championship. In the Co-Main event we see Northern Ireland's own and former UFC contender Norman Parke (24-6-1) take on Irish man Myles Price (10-6) in a very exciting lightweight match up. Parke will be looking to pick up another win on his quest back to the UFC while rising prospect Price will be looking to add a huge scalp to his name.
Also on the card, we see two extremely entertaining fighters come head to head when Liverpudlian Bryan Creighton (8-6) takes on Belfast's own Andy Young (11-10). While Creighton is coming off a 3 fight finish streak, Young is coming off a loss. However, it was to former top 5 UFC flyweight Ali Bagautinov who has beaten top fighters such as Tim Elliott, John Lineker and has fought current UFC flyweight champion Demetrius Johnson. With 11 Finishes between both fighters, this fight will surely live up to expectation and deliver a barn burner.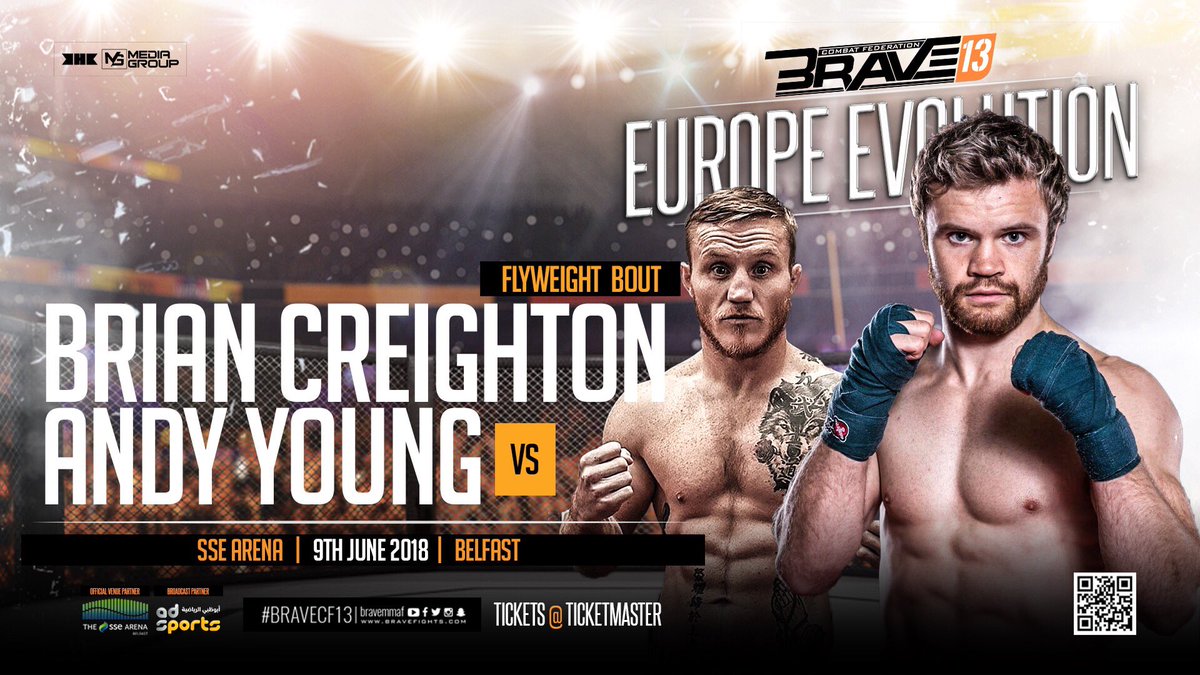 "Any one who enters the Octagon is in the WOLFS TERRITORY! Irrelevant of who my next opponent ill have it with anyone."
Bryan is 8-6 as a pro and currently on a 3 fight win streak, with 3 finishes via both Submission and TKO. This shows that he has skills in both striking and grappling. Creighton is a very strong grappler, which is apparent in his win against Jamie Powell at Almighty Fighting Championship 8 only as far back as April. He has heavy hands and is game to trade with any man. This will be his 7th fight in 12 months, showing that he is ready to fight whenever regardless of the opponent. Similar to his opponent Andy Young, Bryan too has fought some class names, including going the distance with UFC rising star Nathaniel Wood. This fight will be a huge test for Bryan, not only due to the fact that it will be in Young's back yard, but that it will truly show where he is at in his career. A win over Young will only propel him further up the rankings and move him on to the next chapter in his career.
Having already talked to Andy, I then caught up with Bryan to find out how he feels about fighting Andy, and what his thoughts were on coming over to Belfast to fight against the home town favourite.
Eamonn Scott: Bryan, this is your first fight under the Brave banner. When exactly did you get the call about fighting for them and was there anything in particular that interested you the most about fighting for brave?
Bryan Creighton: "joining a dominant Promotion it seems like a natural progression test myself with bigger and better aspirations."
ES: This is quite a big event with it being Brave's debut card in Europe. With being placed so high up the card, do you enjoy these big fights in front of big crowds, or is the occasion irreverent for you?
BC: "I thrive of the occasion. Bigger crowds with Big Venues make me strive for bigger and better things."
ES: This will be your first time fighting in Northern Ireland and Belfast. Are you looking forward to it? Have you heard anything about Belfast and their fans? Do you get enjoy the occasion is it just another day's work for you?
BC: "Belfast fans are very similar to scousers so it's one a Big Party! So I'm looking forward to partying with them all. I'm obsessed I love and breathe what I do!"
ES: With Andy being the hometown fighter, you will naturally be the "Bad Guy". Have you ever fought in someone's back yard before and do you thrive off the atmosphere, negative or positive?
BC: "Bad guy or good Guy! The Wolf is an individual!"
ES: You're coming into this contest off the back of an impressive 3 fight win streak with 3 finishes. Do you believe that this is the best you have ever been in your career?
BC: "Yes I have structure, stability and a fantastic team around me "HAMMA MMA". I believe I have the right tools for the next job at hand."
ES: Andy has fought top quality fighters such as former top 5 UFC Flyweight Ali Bagautinov, do you feel like this is the test you need to follow-up on your previous wins?
BC: "Any one who enters the Octagon is in the WOLFS TERRITORY! Irrelevant of who my next opponent ill have it with anyone."
ES: Andy has multiple wins by TKO, Sub and Decision, showing that he has skills in all departments. However, is there a particular area that you believe you can exploit and get the best over him in?
BC: "I respect Andy for entering the combat Arena with me, who he's fought and what decision and what's he done is the past. I'm looking forward bringing it!"
ES: How has this training camp gone for you? Is there anything specific that you have focused on in this camp and do you think you have improved it as much as you aimed to?
BC: "I've focused on my 'Jitz' this camp as well as wrestling. Training's going well, I'm always pushing my training and always wanting to better myself."
ES: You've been fighting professionally since 2012. Do you feel like you have hit your prime yet and are they many goals and objectives that you have set out to fulfill in your career? If so, have you accomplished any of them?
BC: "I'm Aiming for that number one Spot! Andy is just another stepping stone!"
With both fighters ready to come and trade, this fight will be nothing short of entertaining. It has a high position in the card and rightly so. This bout will surely get the crowd involved, not only in support of their own fighter Andy young, but as it will also be a very exciting contest if both men keep to their word. This card is filled with great contests top to bottom and this is certainly one of them! Don't miss out on this historic event, get your tickets while you still can!